Vesuvian Hits - Clarinet Quintet score & parts

- Francesco Leone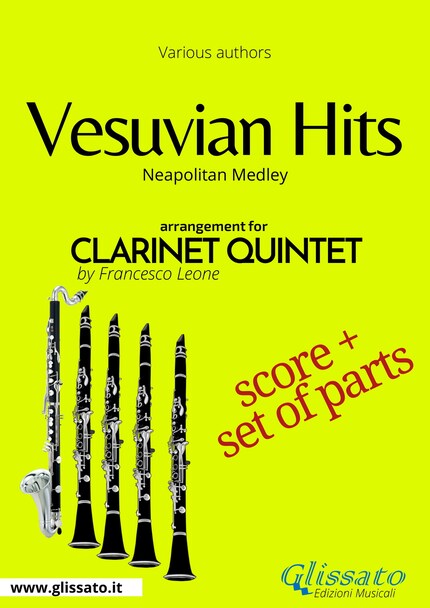 Opis
Vesuvian Hits (Neapolitan Medley). Arrangement for Clarinet Quintet (intermediate level) by Francesco Leone.
Score + Parts (7): Bb Clarinets 1-4 and Bass Clarinet, included alternative parts for Eb piccolo (instead Clarinet 1) and Eb Alto (instead Clarinet 4). Contents: "Torna a Surriento" - "Funiculì Funiculà" - "Io te vurria vasà" - "Comme facette màmmeta". Audio demo available on www.glissato.it -
____________________________
"Vesuvian Hits" medley di canzoni napoletane arrangiate per Quintetto di Clarinetti (livello intermedia) a cura di Francesco Leone.
Partitura + Parti (7): Clarinetti soprano in Sib 1-4 e Clarinetto Basso, incluse parti alternative per Clarinetto piccolo Mib (sostituzione Clarinetto 1) e Clarinetto/Sax Contralto Mib (sostituzione Clarinetto 4).
© Glissato Edizioni Musicali (e-book)