The Strangest Family
The Private Lives of George III, Queen Charlotte and the Hanoverians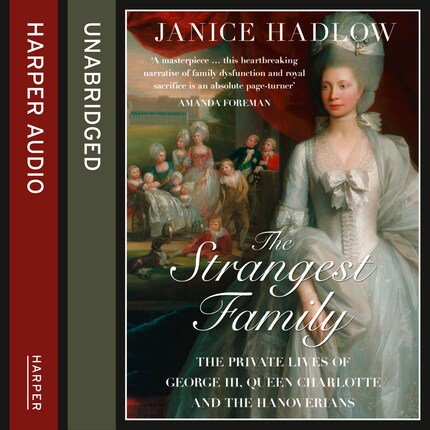 Opis książki
An intensely moving account of George III's doomed attempt to create a happy, harmonious family, written with astonishing emotional force from a stunning new history writer.

George III came to the throne in 1760 as a man with a mission. He wanted to be a new kind of king, one whose power was rooted in the affection and approval of his people. And he was determined to revolutionise his private life too – to show that a better man would, inevitably, make a better ruler. Above all he was determined to break with the extraordinarily dysfunctional home lives of his Hanoverian forbears. For his family, things would be different.

And for a long time it seemed as if, against all the odds, his great family experiment was succeeding. His wife, Queen Charlotte, shared his sense of moral purpose, and together they did everything they could to raise their tribe of 13 young sons and daughters in a climate of loving attention. But as the children grew older, and their wishes and desires developed away from those of their father, it became harder to maintain the illusion of domestic harmony. The king's episodes of madness, in which he frequently expressed his repulsion for the queen, undermined the bedrock of their marriage; his disapproving distance from the bored and purposeless princes alienated them; and his determination to keep the princesses at home, protected from the potential horrors of the continental marriage market, left them lonely, bitter and resentful at their loveless, single state.

At one level, 'The Strangest Family' is the story of how the best intentions can produce unhappy consequences. But the lives of the women in George's life – and of the princesses in particular – were shaped by a kind of undaunted emotional resilience that most modern women will recognise. However flawed George's great family experiment may have been, in the value the princesses placed on the ideals of domestic happiness, they were truly their father's daughters.