The Ministry Of Common Sense
How to Eliminate Bureaucratic Red Tape, Bad Excuses, and Corporate BS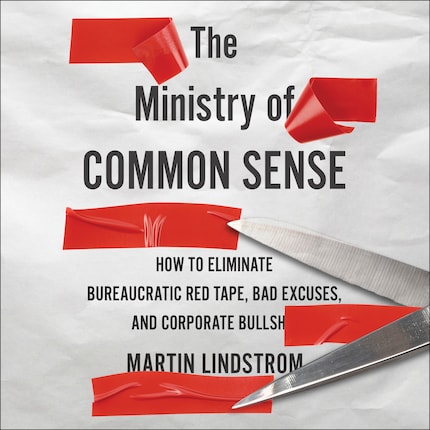 Opis książki
WALL STREET JOURNAL Bestseller

A humorous yet practical five-step guide to ridding ourselves—and our companies—of bureaucratic bottlenecks and red tape

During the COVID-19 pandemic, the TSA is allowing passengers to board planes with unlimited amounts of hand sanitizer, while maintaining its 3.4-ounce limit on all other liquids. You need a chainsaw to pry open your new pair of headphones from their package. Your eighth Zoom meeting of the day keeps freezing, and if you hear "No, wait; no, you go first" again, you will implode. But first you have to sit through an endless Power Point presentation that everyone claims they've read, no one has, and that could have been summarized in one page.

What has happened to common sense? And how can we get it back? Companies, it seems, have become so entangled in their own internal issues, and further beset by reams of invisible red tape, that they've lost sight of their core purpose. Inevitably, they pay the price.

Best-selling author Martin Lindstrom combines numerous real‑life examples of corporate common sense gone wrong with his own ingenious plan for restoring logic—and sanity—to the companies and people that need it most. A must-read for today's executives, managers, and employees, The Ministry of Common Sense is funny, entertaining, and immensely practical.