The Complete Anti-Inflammatory Diet: A 2-week Meal Plan to Heal The Immune System and Restore Overall Health By Resetting Your Metabolism And Losing Weight

- Karen Moore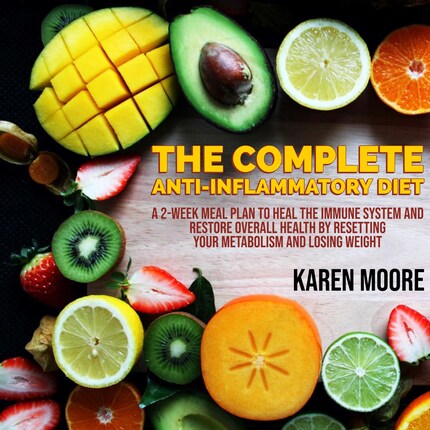 Opis
Are you looking for reliable information to reduce the inflammation level of your body and lose weight at the same time? Then keep listening, as this is the guide for you!
Nowadays we everywhere find information about how and what to eat to feel healthier, but quite often these recommendations are driven by the mainstream and are not coherent with what human body really needs to feel healthy and performs at its maximum levels. Additionally, since the childhood we use to eat foods full of sugar and other chemical additives that make it tasty, addictive, and cheap but at the same time increase the inflammation level because of nutrients human body does not need and is unable to absorb.
If you want to know more, you are in the good place as in "The complete Anti-Inflammatory Diet", you will learn:
• Why an anti-inflammation diet is so important to heal the immune system;
• How to reduce the overall inflammation level in your body and live without pain;
• How to make a good complementary integration with herbs and other natural remedies;
• Helpful food lists and nutritional information will help you make smart food choices and stick to your anti-inflammatory diet
• Get access to 2 weeks diet plan based on simple and very tasty recipes;
Be ready to enjoy your way toward a better health with this complete anti-inflammatory diet. A healthier life is waiting for you, so buy the audio book now and enjoy the listening!

© Author's Republic (audiobook)