The Clearing
- Allison Adair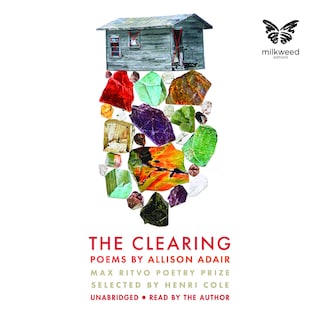 Opis
Winner of the 2020 Max Ritvo Poetry Prize, The Clearing is "a lush, lyrical book about a world where women are meant to carry things to safety and men leave decisively."

Luminous and electric from the first line to the last, Allison Adair's debut collection navigates the ever-shifting poles of violence and vulnerability with a singular incisiveness and a rich imagination. The women in these poems live in places that have been excavated for gold and precious ores, and they understand the nature of being hollowed out. From the midst of the Civil War to our current era, Adair charts fairy tales that are painfully familiar, never forgetting that cruelty compels us to search for tenderness. Here we wonder, "What if this time instead of crumbs the girl drops / teeth, her own, what else does she have"?

The Clearing knows the dirt beneath our nails, both alone and as a country, and pries it gently loose until we remember something of who we are, "from before...from a similar injury or kiss."

There is a dark beauty in this work, and Adair is a skilled stenographer of the silences around which we orbit. Described by Henri Cole as "haunting and dirt caked," her unromantic poems of girlhood, nature, and family linger with an uncommon, unsettling resonance.


© Author's Republic (audiobook)