Spectacular Stories for the Very Young

- David Walliams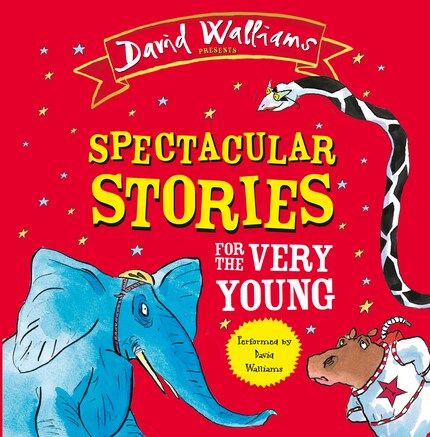 Opis
Four of David Walliams' amazing picture books in one spectacular collection for the first time! Read by the author himself.

33 minutes of side-splitting stories for the very young, hilariously read by David Walliams. This unabridged compilation includes:

THE SLIGHTLY ANNOYING ELEPHANT
What's big, blue, bossy, and turns up uninvited? A slightly annoying elephant, of course!

THE FIRST HIPPO ON THE MOON
Two big hippos. One ENORMOUS dream. Who can make it to the moon first?
3 . . . 2 . . . 1 . . .BLAST OFF!

THE BEAR WHO WENT BOO!
At the top of the world, surrounded by snow and ice, lives a very cheeky polar bear cub who loves to go…BOO! But this little bear cub doesn't always know when to stop…

THERE'S A SNAKE IN MY SCHOOL!
Miranda loves to be different, and on Bring-your-pet-to-school Day she introduces everyone to her very DIFFERENT pet…Penelope the snake.