Middlemarch
- George Eliot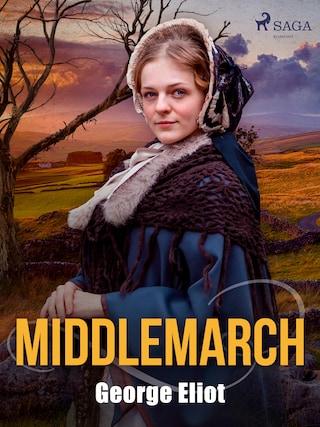 Opis
"Middlemarch" is a book to lose yourself in. Set in a fictional English town, it weaves together dozens of characters and storylines into a rich tapestry of 19th century life. At its center are Dorothea, an idealistic young woman stuck in a loveless marriage, and Will, the headstrong artist who offers her hope of a brand new start.

Like Austen before her, Eliot creates a page-turning drama that's also thematically rich, especially when it comes to women's place in Victorian society.

Listed on Robert MCCrum's '100 Best Novels Written in English' list published in The Guardian, January 2021, "Middlemarch" been hailed as one of the greatest novels ever written, and is a favorite of many other authors, from Emily Dickinson to Martin Amis. If you love books, you'll love "Middlemarch".

George Eliot, pseudonym of Mary Ann Evans (1819–1890), was an English novelist, journalist and poet. She took a realist approach to storytelling, finding the drama and beauty in the day-to-day existence of England's rural working classes. Her most famous novels include "Middlemarch", "The Mill on the Floss" and "Adam Bede".

Eliot's personal life was the subject of some controversy. For over two decades, she lived together with George Henry Lewes, a married man—he was estranged from his wife but never officially divorced. Their relationship offended Victorian sensibilities, but failed to dent Eliot's popularity with readers. The pair are buried side-by-side in London's Highgate Cemetery.