Mexican Cookbook Rice Recipes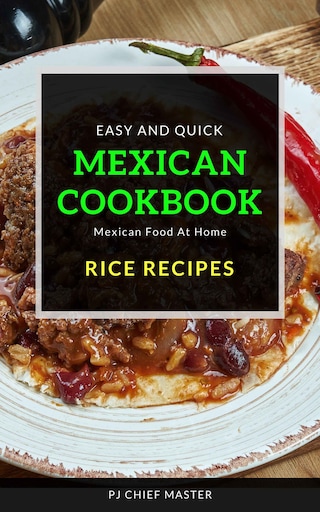 Opis
Mexican Cookbook - Mexican Rice Recipes Series
Easy Mexican Food Favorites proves that you don't have to live south of the border to make amazing Mexican cuisine. This Mexican cookbook is filled with simple and sumptuous recipes that every home cook can master. Not much time to cook? Not a problem. This Mexican cookbook makes it easy to fit flavorful dishes into any schedule with make-ahead tips, timesavers, and lots of recipes that take 30 minutes or less.

Mexican cuisine remains one of the most beloved and appreciated outside the country of origin,
in this book you will find:

A step-by-step guide for each recipe
You will learn how to prepare recipes for breakfast, lunch, dinner and of course typical and most famous dishes.
You will learn how to prepare the most famous Mexican foods.

Mexican food is a real discovery, each dish has a strong flavor and often spicy, depending on the sauces that are added to the recipe. At any time of the day you want to eat, you have several options at your disposal, from breakfast (el Desayuno) to the famous Mexican food with their endless varieties.

Even if you think that preparing a Mexican dish is difficult, in this book you will find the recipes explained in great detail.
Even if you think finding the ingredients to cook a Mexican dish is difficult, don't worry, you'll have the shopping list in every recipe and you'll be able to find the ingredients you need in every supermarket.

What are you waiting for? scroll upwards and click on the "buy" button and you will get many ideas for cooking in a really tasty and special way.
© PJ CHIEF MASTER (e-book)