Love or Work

- André Shinabarger, Jeff Shinabarger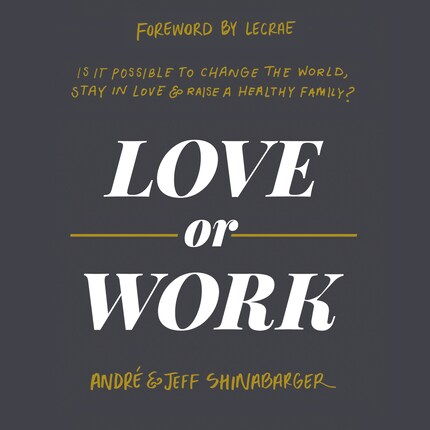 Opis
Is it possible to work with purpose, stay in love, and raise a healthy family--all at the same time? Popular podcast hosts and founders of Plywood People Jeff and André Shinabarger share proven research, insightful practices, and stories from 100 working couples to cast new vision for the modern family.

We know the harm that comes from prioritizing work or family at the cost of the other, so what is the secret to living a fully engaged and balanced life in both work and family? Hosts of the Love or Work podcast, Jeff and André Shinabarger posed this question to 100 working couples--from professional athletes and artists, entrepreneurs and CEOs, to fashion icons and church leaders. They partnered with the Barna Group for a yearlong nationwide research project to find the answer and now, along with their own unique story of juggling demanding careers and a growing family, Jeff and André offer their findings: a new vision for the modern family and a path forward for the socially-conscious working partnership.

In this one-of-a-kind audiobook, they address head-on the complex tensions in career fulfillment, working parent guilt, timing, and marital and spiritual health. With proven research, personal experience, and applicable insights, Jeff and André reveal the practices that will help you cultivate your own, individual, purpose-fueled family.

More than a formula, Jeff and André found that work-life balance is about embracing where you're at in the journey, pursuing your passion with your family, and living the adventure of it all together.

Graphics, reflection questions, and podcast resources for further learning are available in the audiobook companion PDF download.