Grandpa's Polka - Brass Quintet Score + Parts
- Francesco Leone, Polish Traditional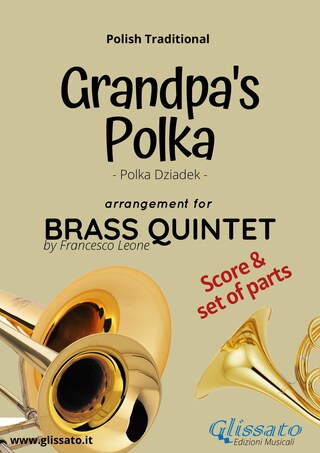 Opis
Grandpa's Polka , also known as "Polka Dziadek" or "The Clarinet Polka" is a Polish folksong from the end of the 19th century.
Arrangement for Brass Quintet by Francesco Leone (intermediate level).
Score and Parts: Bb Trumpet 1,Bb Trumpet 2, French Horn in F, Trombone, Tuba, optional parts for Eb Horn and Trombone treble clef included.
Audio demo: https://www.glissato.it/eg1104-granpas-polka-quintetto-brass.html
______________________
Grandpa's Polka (Polka del nonno), conosciuta anche come "Polka Dziadek" o "The Clarinet Polka" è un brano popolare polacco della fine del XIX secolo. Arrangiamento per Quintetto di Ottoni a cura di Francesco Leone . Partitura e Parti (7).
© Glissato Edizioni Musicali (e-book)