Expert Cooking and Grilling Bundle, 2 in 1 Bundle: Grill and Barbeque and On Food and Cooking
- J.M. Edison, and Gwyneth Lindsay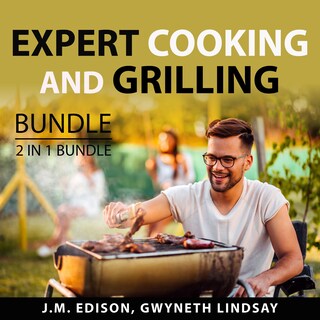 Opis
Expert Cooking and Grilling Bundle, 2 in 1 Bundle: Grill and Barbeque and On Food and Cooking

There are a lot of people who are becoming interested in cooking at home these days as opposed to going out. Yet the biggest problem a lot of people face is they don't know where to start when it comes to home cooking. Some people get intimidated and discouraged so they don't even attempt to learn but the truth is, cooking is not as difficult as it seems. What you have to do is learn as much as you can about home cooking and from there apply all that you know in order to see successful results.

Grilling is just like any other kind of cooking, it is a learned art. The major difference between grilling and cooking on the stove or in the oven is that grilling is a combination of the two.

This bundle will teach you tips on everything that involves cooking from general cooking tips to tips on how to cook specific meats and vegetables. You will also get tips for baking. You will learn all the necessary information for you to become a grill master. You will learn everything from the basics, how to grill different kinds of meat, and other tips on how to make a perfect grill. You will also learn different methods of grilling.

This 2 in 1 bundle will include the following audiobooks:

1. Grill and Barbecue: The Ultimate Guide on How to Grill Anything, Learn Perfect Grilling Techniques, and Become a Grillmaster

2. On Food and Cooking: The Ultimate Guide on How to Cook Like a Professional Chef, Learn Expert Tips and Techniques That Can Help You, Cook, Like a Real Chef

Get the Expert Cooking and Grilling 2 in 1 Bundle today!


© Author's Republic (audiobook)