Dudes, Change Your Ways in 90 Days (Unabridged)

- Jack Benza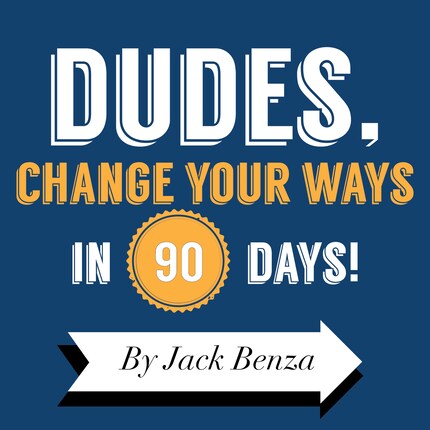 Opis
Dudes listen! 90 Days Til Redemption is a trial process when you temporarily stop all the bad habits in your life, and you live without them for 90 Days. Guys don't worry, tools are provided in the beginning consisting of the Redemption Bracelet which signifies each day you are on, the journal which is used for self reflection, the old Number 7 box which is used for the financial aspect of our journey, the mini rituals which are used for self preservation, the calendar for the sense of completion and the It Takes 8 workout which allows any fella to gain energy and lose weight during the process.
Gentleman, in these 90 days, you test drive a new life: see what it is like to wake up sober and to have the money in your pocket instead of spending it stupidly on yourself or chicks. We start at Day One where we set up our journey for success. As the week progresses we break down how to deal with "hot spots" or times when you would want to indulge in bad habits. We learn about Mr. Angry which is a term that describes the behavior and thought process we all possess when we are no longer indulging in our bad habits. As the journey progresses we challenge the weekend warrior, which is the thought process of many dudes who want to indulge in bad habits once the weekend hits. We start to think differently and we become stronger when we start to see our own power develop. Then more tools are thrown in to the mix such as: practices pages, which are little tests and challenges we set up for ourselves which start to develop our creativity. The power of Day Dreaming and Pep Talks are used to help us visually see our progression.
When you arrive at Day 30 you will start to deal with the Six Degrees of Frustration: goal blockers who are people that want you to fail, Mr. Angry returns, the mentality changes, you realize that you have your own internal clock and how to deal with things without the habits in our life. You start to impress yourself by setting up new goals that other people thought you couldn't do, for example run a 26.2 mile marathon. The Big Fear, or the reason you indulge in your bad habits, is addressed and you learn how to conquer those fears. You take the Vacation Test which proves to yourself that you dont need to drink or smoke to have a good time.
Now the big question to answer is who do you want to be more? I admit, the life of your old self can be appealing, but the reason you did the 90 days was to find a "Happy Medium", which means you get to live a way where both of your "selvesí get what you want. In order to do that, you have to think of this as a sitdown or divorce proceeding where both sides fight for what they want and in the end you come up with a strategy, which is the game plan you will follow once these 90 Days are up. Once the sitdown or proceeding is over you come up with the New Normal or the way you will be living once your 90 Days is over. Once you have your strategy you finish your 90 Days with the Clean Slate theory, which is dudes, our way of clearing our minds and body from past circumstances. Finally you receive Redemption and get back that one thing you haven't had for a while, control.
© 2013 Jack Benza (audiobook)