Cole's Red-Hot Pursuit & Spencer's Forbidden Passion
- Brenda Jackson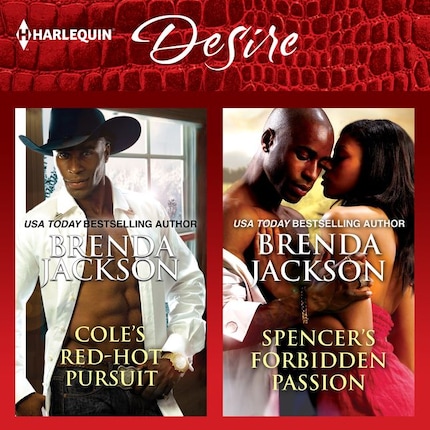 Opis książki
Cole's Red–Hot Pursuit

Cole Westmoreland always gets what he wants!

What the former Texas Ranger wanted was sultry Patrina Forman. But Patrina was set against falling for a man with a no-strings attitude, and there was no way she'd fall into bed with a lawman!

Then a Montana blizzard changed everything. Trapped together for three sinfully delicious nights, Cole soon had Patrina singing a different tune thanks to his brand of red-hot seduction. But what would happen once the thaw arrived?

Spencer's Forbidden Passion

"YOU HAVE FORTY-EIGHT HOURS TO BE MY WIFE."

Millionaire deal–maker Spencer Westmoreland would bail out Chardonnay Russell's failing Napa Valley vineyard. And in return she'd bear his children. But she shouldn't dare hope Spencer would ever fall in love with her.

Her only choice was to accept the arrogant businessman's proposal. But becoming Spencer's wife—in every way—set her body, her heart, on fire. And soon Chardonnay wanted what was strictly forbidden….