Captain Underpants and the Wrath of the Wicked Wedgie Woman - Captain Underpants 5 (Unabridged)

- Dav Pilkey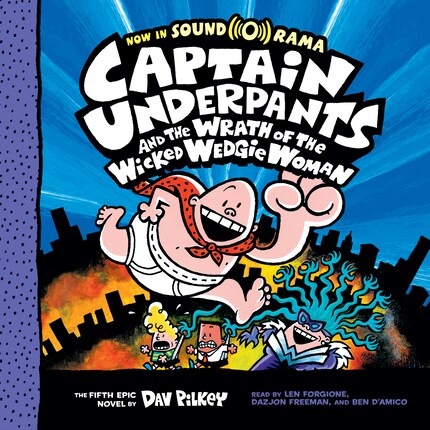 Opis
The fifth book in Dav Pilkey's mega-bestselling Captain Underpants series, now available in Sound-O-Rama!
George and Harold are always good at using their imaginations, and that drives their mean homeroom teacher, Ms. Ribble, crazy! But this time, they've come up with much more than a silly prank - they've created an actual MONSTER! With her horrendous hairdo and two rabid robots, Wedgie Woman is well on her way to world domination, and only the Waistband Warrior can stop her!
The Captain Underpants series is perfect for listeners of all ages. Like the other outrageously funny books by acclaimed author and Caldecott Honor illustrator Dav Pilkey, this adventure is sure to be hours of fun!
© 2018 Scholastic Inc. (audiobook)
© 2001 Dav Pilkey (audiobook)