Arms & The Man

- George Bernard Shaw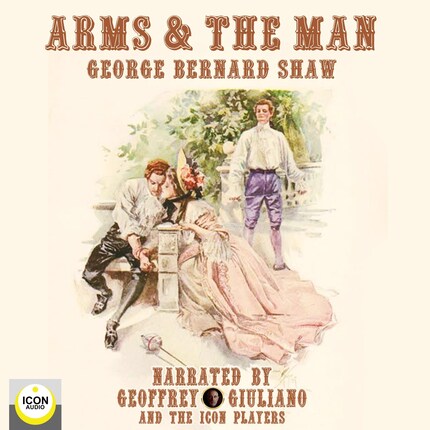 Opis
Arms and the Man is a comedy by George Bernard Shaw that takes place in 1885, during the Serbo-Bulgarian War. Raina Petkoff is engaged to the gallant Sergius Saranoff, hero of the recent Bulgarian victory over the Serbs. But she is distracted by the abrupt arrival of Captain Bluntschli, a Swiss mercenary who fought for the Serbian army. He takes refuge in her bedroom after the battle and although he is initially threatening, reveals that he carries chocolate creams instead of bullets. Will Raina marry the posturing Sergius or the chocolate cream soldier? Extra intrigue is provided by saucy servant girl Louka and her dour fiance Nicola.
Produced by Devin Lawrence
Edited by Macc Kay
Production executive Avalon Giuliano
ICON Intern Eden Giuliano
Music By AudioNautix With Their Kind Permission
©2020 Eden Garret Giuliano (P) Eden Garret Giuliano
Geoffrey Giuliano is the author of over thirty internationally bestselling biographies, including the London Sunday Times bestseller Blackbird: The Life and Times of Paul McCartney and Dark Horse: The Private Life of George Harrison. He can be heard on the Westwood One Radio Network and has written and produced over seven hundred original spoken-word albums and video documentaries on various aspects of popular culture. He is also a well known movie actor.
© Author's Republic (audiobook)