A Sidecar Named Desire
Great Writers and the Booze That Stirred Them
- Greg Clarke, Monte Beauchamp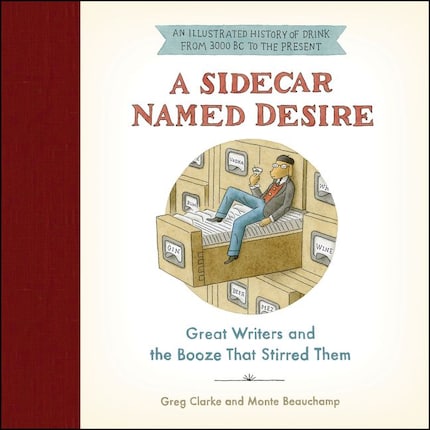 Opis książki
A rollicking history of alcohol and its literary imbibers, from Jane Austen's beer brewing to James Joyce's passion for Guinness to E.B. White's cure for writers' block—a dry martini—by celebrated illustrator Greg Clarke and award-winning editor/art director Monte Beauchamp.

"Civilization begins with distillation."—William Faulkner

"Bourbon does for me what the piece of cake did for Proust."—Walker Percy

"God has a brown voice, full and soft as beer."—Anne Sexton

Throughout history, there has been no greater catalyst for creativity among writers—so they claim—than a good, stiff drink. From Aristophanes' attraction to wine, to Dostoevsky's breakfast of grain vodka and brown bread, to Joan Didion's fondness for gin, stories abound of how booze has fueled and inspired our literary icons.

In this volume, cartoonist Greg Clarke and comics anthologist Monte Beauchamp take us on an unforgettable literary bar crawl. A Sidecar Named Desire is packed with historical factoids, anecdotes, booze trivia, and fascinating detours into the lives of our most storied literary personalities—along with literary-themed cocktail recipes such as Ernest Hemingway's Death in the Afternoon and Philip Larkin's Gin and Tonic set to verse.

For the literary-minded drinker—whether wine, gin, vodka, beer, whiskey, or tequila is your elixir of choice—A Sidecar Named Desire will whet your appetite. Bottoms up!